|
Sometimes the signs that you need a new roof are obvious, such as when your home sustains major storm damage. Other times the signs may be subtle, and homeowners may not be sure how many more years they can get out of their roof before having to replace it. If you aren't quite sure whether you need a new roof installation just yet, consider scheduling a free roof inspection with the trustworthy professionals at Premiere Roofing & Gutters. Our experienced roofers will look for warning signs such as those below.
A new roof installation is an investment in your home. After you schedule a residential roofing installation in North Carolina, you can look forward to an upgraded look for your home, better curb appeal, and higher home value—not to mention the fact that your new roof will protect your home from damage for many years to come. Here are common signs to look for when you suspect your roof is on its last legs: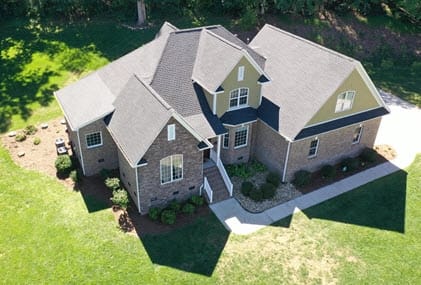 Roof Leaks
It's never supposed to rain indoors. When it does, there's something wrong with your roof. Roof leaks can happen for a number of reasons. Sometimes, the damage to the roof is inflicted quickly, such as during a powerful storm. In other cases, the damage can develop gradually over time. If your roof is older, the roofing materials have likely grown weaker. This increases the chances that water can seep in. It may be possible to repair one or two small areas of damage. However, if large areas of roofing materials have been damaged or you have multiple, persistent leaks, then it's time for a new residential roof.
Aging Shingles
If you have a shingle roof, one easy-to-spot warning sign is damaged shingles. Shingles should always lay flat on the roof. If they are curling up or buckling, or if they are cracked or otherwise damaged, it's time for a new roof. Similarly, check your gutters and downspouts for the presence of large quantities of shingle granules. If your roof is shedding granules, it's toward the end of its life.
Sagging Roof
A sagging roof is a major warning sign. Water damage is one common cause of a droopy roof. However, a roof can also begin to sag simply due to age. Over time, the roofing materials can begin to settle, eventually getting to the point at which the sagging is clearly visible from the ground. If your roof is starting to sag, you need to schedule a new roof installation ASAP.
Shingle Discoloration
These days, shingles come in many different colors, and architectural shingles are particularly aesthetically appealing. Yet, shingles can become discolored over time. If you notice any dark streaks, this could indicate algae damage. You can also check the inside of your home for discoloration that can indicate water damage. Periodically, examine the ceilings to see if any discoloration is present.
Similarly, if you have an attic, go up there to check for discoloration that can indicate water damage. You can also turn the light off and examine the ceiling. If you see daylight shining through, you've got a problem and it's time to schedule a residential roof installation.
Schedule A Free Roof Inspection Today
Premiere Roofing & Gutters provides world-class quality roofing services in Blowing Rock, Wilkesboro, Wilmington, and the surrounding areas. When you choose our crew for your roof installation, you can rest assured the job will get done right the first time. We pride ourselves on integrity and honesty. As a leading residential roofing contractor in North Carolina, we will do a thorough inspection and let you know if your roof requires replacement or if it can get by with repairs. Call today or fill out the easy contact form to request a free residential roof estimate in North Carolina.