|
The average homeowner only needs to replace their roof once or twice during their lifetime, depending on when they bought their first house. Because of this, it's not unusual to feel a bit uncertain when it comes time to address the issue of a worn-out roof. It's important to choose a residential roofing contractor in North Carolina who will take the time to answer all of your questions and explain what to expect. The following are a few of the things you should know before installing a new roof.
You Can Choose To Switch Your Type Of Roof
Before installing a new roof, give some consideration to whether you want the same type of roof you currently have or if you'd like to switch to a different material. For instance, if you currently have a shingle roof, you might want to think about switching to metal. Metal roofs have a substantially longer lifespan (about 40 to 70 years, compared to about 20 for shingle roofs). Plus, they are 100% recyclable, not flammable, and can withstand very high wind speeds.
On the other hand, metal roofs are also more costly upfront. If you're watching your budget, you might be tempted to stick with a shingle roof, or to transition from a metal to a shingle roof.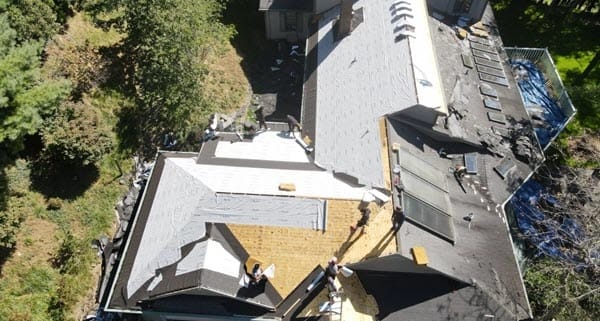 You Can Opt For A Roof Coating For Added Protection
Some roofing contractors offer the option to add a coating when installing a new roof. The extra expense is typically worth it, since a roof coating extends the lifespan of your roof and enhances its protection against leaks. Plus, roof coatings help your home become more energy efficient.
Your Insurance Plan May Cover Your New Roof Installation
A homeowner's insurance policy won't always cover a new roof installation. However, if your current roof was extensively damaged, such as during a storm, then your insurance should cover its replacement. Talk to your roofing contractor about your insurance coverage. Contractors who work with insurance companies regularly should be able to help you decipher your policy.
Some Roofing Contractors Offer Financing Options
Installing a new roof is certainly a major investment, and it can be tough to shoulder the cost when your insurance policy won't cover it. Not all roofing contractors offer in-house financing. In these cases, homeowners are expected to pay out of pocket or obtain a loan. Premiere Roofing & Gutters DOES offer in-house financing to make roof replacement as affordable and convenient as possible. Be sure to ask about your options!
Installing A New Roof? Contact The Pros In Hickory, NC
Premiere Roofing & Gutters specializes in residential roofing installation in North Carolina. We take the time to thoroughly address all of our customers' questions and concerns, walking them through the process and explaining all of their options. Our 50-year warranty is unbeatable, and we also offer roof coatings and premium GAF HDZ shingles. We'll work with your insurance company when installing a new roof, and unlike most roofers, we even offer in-house financing options. Contact us today to schedule a residential roof estimate in North Carolina, and be sure to ask us about our gutter installations, as well!