|
The best flat roof systems may include built-up roofs, coatings, EPDM, metal, PVC, roll roofing, or TPO. However, there is no single right answer to– which flat roof materials work best for a commercial structure. Instead, it depends on a variety of individual factors, such as: what type of look you want, what the rooms below are used for, how long you need the roof to last, and how much you're willing to invest in your commercial property.
What is the Best Flat Roof Material?
Common commercial flat roof types include the following:
Built-up
Built-up roofs (BURs) layer up asphalt or hot tar topped with rocks or gravel. A strong shield with tight seals– a built-up five-layer roof can last 25 years and is less prone to damage from water, hail storms, or fire.
Pros: Built-up roofs are made to withstand the elements and protect your structure for years to come.
Cons: It is quite heavy, so you'll need an underlying structure that can handle the pressure. BURs are also more labor-intensive to install and costlier to repair than other types of flat roofs.
Coatings
Several coatings may be applied to commercial flat roofs, including acrylic, asphalt emulsions, chemical solvents, polyurethane, or silicone—but generally speaking, these coatings are quick to install and affordable. Yet, they must also be replaced more often.
Pros: Coatings can be highly reflective, UV resistant, clean, and easy to apply.
Cons: Many coatings do not fare well with pooling water. Some carry a strong odor when first applied and begin losing their protective nature after two to four years.
EPDM
EPDM (ethylene propylene diene terpolymer) is a common commercial application made from black synthetic rubber. Used in other applications as a bulletproof material, its extreme strength lasts 30 to 50 years.
Pros: Unlike white membranes, black EPDM rooftops won't show dirt and can withstand temperature extremes. This type of installation is easy to repair and more affordable than many types of flat roofing systems.
Cons: EPDM can absorb heat, so it's more suitable for smaller storage buildings than working spaces. Risks of seam breakage and roll shrinkage increase with larger industrial EPDM installs, so TPO roofing may be preferred in these cases. It also looks akin to weather stripping on a car door, so not the most beautiful roof on the market.
TPO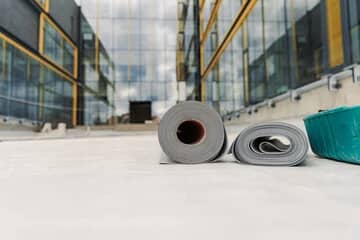 TPO—short for thermoplastic polyolefin—is a single-ply white membrane. While it's not as durable as EPDM, you can get 25 years from a TPO roof as long as it's installed properly.
Pros: Reflective in nature, TPO is a new and popular option for flat roofs, as it keeps the rooms below cooler. The laminated surface prevents algae or fungal buildup, so you won't have to power-wash, making it relatively low maintenance. The material is also lightweight and well-suited to older structures.
Cons: If you can see the roof from another window, you may notice white gets dirty quickly. Slightly more expensive than tar and gravel roofing, it also is not as durable in extreme weather conditions. TPO repairs require a heat welder and professional expertise. As it's a relatively new material, the performance can vary from manufacturer to manufacturer.
Metal
Standing seam metal flat roof systems mechanically lock sheets of metal together, allowing for expansion and contraction– while providing an extremely durable protective layer to your commercial property. With proper insulation, a metal roof system can last 30-50 years.
Pros: Metal roofs are among the most aesthetically pleasing, offering a number of color options.
Cons: Metal is also one of the most expensive materials, though its longevity could make it a worthwhile investment if you plan to hang onto your commercial real estate long-term.
PVC
Polyvinyl chloride (PVC) roofing is a single-ply white material often used over offices, as its reflective color keeps the room below cool. Like TPO, a properly installed PVC roof should last 20-30 years.
Pros: A PVC flat roof installation is very similar to a TPO install, except that PVC is a more flexible material that has been around longer. It is similarly reflective to reduce cooling costs and is resistant to algae or bacterial growth from temporary ponding. White is most common, but darker shades exist.
Cons: PVC is slightly more expensive per square foot than TPO, though labor costs are the same. Removing the old roofing requires more labor and care to prevent puncture-related leaks. In addition, the manufacture of this roofing type releases toxic dioxin into the air, so it's not the most eco-friendly option if your business engages in values-based investments.
Roll Roofing
Developed in the 1960s, roll roofing—otherwise known as modified bitumen or "mod bit"—involves an asphalt-based flat roof material with special polymers added for performance and pliability. The smooth or granular rolls can be hot or cold-applied or self-adhered. An expert-installed roll can last up to 20 years.
Pros: Commercial roll roofing is budget-friendly, energy-efficient, and durable for its lifespan. Most commercial businesses choose mod bit for the price point alone, but the color variations are as varied as composite shingle roofs.
Cons: The relatively short lifespan is the main drawback, with cracking and blistering possible after the first 10-15 years. Walking on the roof or a fallen branch can be enough to crack modified bitumen roofs. Leaks in the substrate can also be difficult to detect.
Looking for the Best Flat Roof Material for Your Business? Ask a Pro!
Contact Premiere Roofing to learn more about commercial flat roof installation in Hickory, Blowing Rock, or Charlotte, North Carolina. No matter which type of commercial flat roofing you prefer, you can count on the experienced professionals at Premiere Roofing to get it done and make it last.