|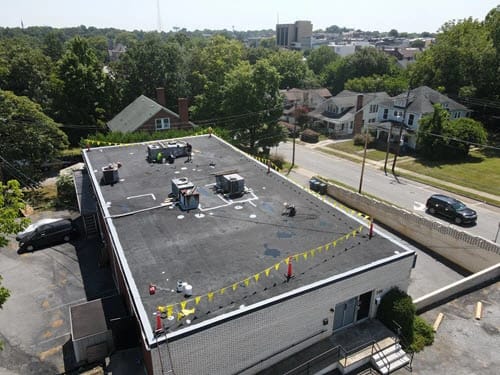 COMMERCIAL ROOF MAINTENANCE FALLS INTO THREE DISTINCT CATEGORIES:
Inspections– to spot problem areas as soon as possible.
Spot repairs– for when roof damage is limited to a specific area.
Roof replacement– required in cases of widespread or advanced damage.
At Premiere Roofing, we're skilled in all aspects of industrial roof maintenance. Get in touch with us today if we can be of help. In the meantime, here is a closer look at the three categories.
COMMERCIAL ROOF INSPECTION
A roof inspection can take many forms, from a simple visual evaluation to an in-depth analysis using core samples or an infrared camera.
Generally speaking, an "eyeball exam" should be performed 2-3 times a year. The inspectors should look for tears, punctures, or gaps between the membrane and the flashing.
The inspection team should also examine the perimeter edging, condensing units, and the condition of the brick or metal facing. The goal is to find any location where water might gain an entrance to the building, no matter how small.
The inspection should also include core samples from various sections of the roof. Most commercial building codes allow for a maximum of two roof systems– one on top of the other. If more exist, then the roofing material should be torn up and replaced.
A more thorough way to judge the condition of the roof is with an infrared camera. These devices are typically used at dusk when variations in the roof's heat signature begin to even out. If excessive moisture is detected, it will require either a partial or complete tear-out and replacement.
SPOT REPAIRS TO A COMMERCIAL ROOF ("ROOF TUNE-UP")
The exact form the commercial roofing repair will take usually depends on the type of damage the roof has suffered. However, in most cases, it will include the following steps:
Cleaning up debris– such as sticks, leaves, bird nests, and anything else that's out of place.
Removing pools of stagnant water– which otherwise can leach into the roof and cause moisture damage.
Applying sealant to loose flashing and overlaps– which are two of the most common trouble spots when it comes to flat roof maintenance.
Also known as a "roof tune-up," a spot repair program is a great way to protect your commercial roof from further damage while prolonging its lifespan.
COMPLETE ROOF REPLACEMENT
As the term implies, a complete commercial roof replacement entails removing all existing insulation and waterproofing materials and replacing them with new products. The job may require structural repairs like replacing rotted beams or plywood. This is the most extensive – and most expensive – service offered by a roof maintenance company.
PREMIERE'S COMMERCIAL ROOF TUNE-UP PROGRAM
As a member of the Charlotte business community, Premiere Roofing knows that a complete roof replacement can be costly. That's why we are happy to offer an affordable alternative: commercial roof restoration. Here's what it includes:
Complete sealing of two pipe collars.
Repairing loose or torn membranes with industrial-grade silicone sealant.
Repairing and sealing loose or damaged flashing.
All of the above for one low cost.
READY TO KNOW MORE? GET IN TOUCH WITH US TODAY
We know you have many questions about EPDM and TPO roof maintenance, as well as commercial roof restoration. Contact Premiere Roofing today to learn more or to obtain a free, no-obligation commercial roof estimate. You'll soon have the facts you need to make an informed decision.