|
As a commercial building owner or property manager, your job is to keep things running smoothly and problem-free. But sometimes, the worst threats to your facility can escape notice until they're raining down on your head.
Take your building's roof, for example. It does its job day in and day out, in summer heat and winter cold, standing up to the elements without a word of complaint. But, like any part of your facility, it can fall prey to all sorts of hazards, from severe weather conditions to the effects of time. When this happens, the consequences for your organization can be crippling.
Fortunately, there's a solution. The commercial roofing repair professionals of Premiere Roofing and Gutters can fix the problem and free you to focus on other priorities. Call us today to put our expertise to work for you.
During our decades in this business, we've seen first-hand almost every kind of flat roof damage imaginable. Here are seven of the most common problems we run across:
THE BIGGEST THREATS TO YOUR COMMERCIAL ROOF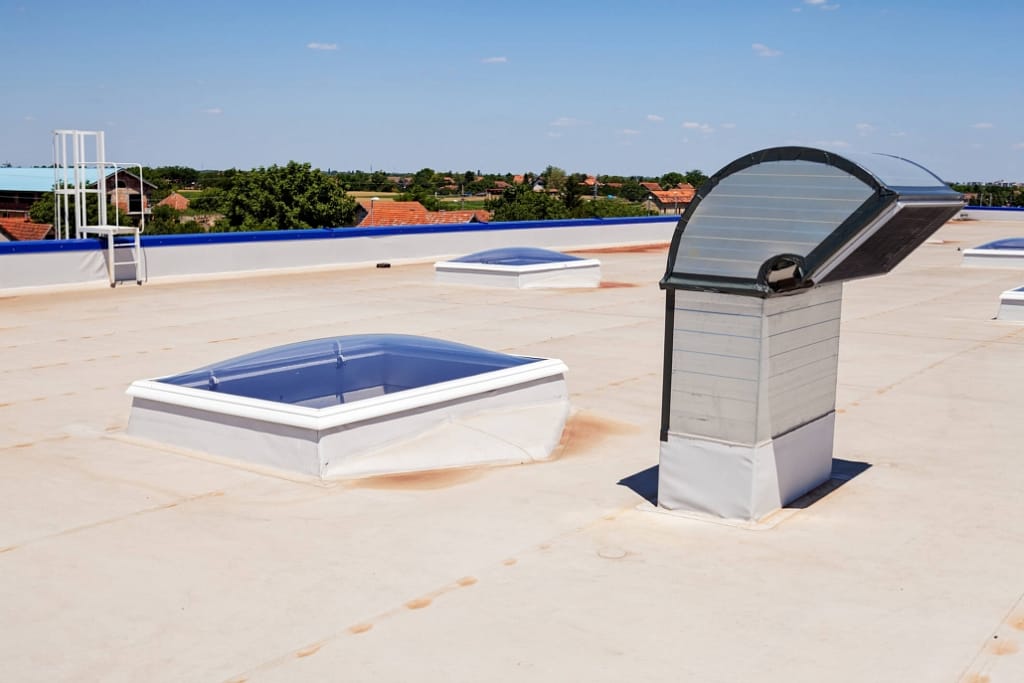 Clogged drains: Your building's drainage system channels rainwater off the roof and away from your facility. But many types of foreign matter can find their way into your drains, including leaves, debris, and even bird's nests. This can create pools of stagnant water, which fester on your roof until they cause leaks.
Wind-related damage: If you're a homeowner, then you've probably had to deal with missing shingles from time to time. A similar problem can threaten flat commercial roofs. For example, prolonged winds can cause the protective membrane to separate from the underlying surface. This will allow rainwater and other pollutants to enter your facility.
Material shrinkage and expansion: Commercial roofing compounds, like any other human-made products, will expand and shrink with seasonal temperature changes. This can cause cracks, loose flashing, and other sources of leakage.
Erosion due to foot traffic: Your roof takes a beating every time someone walks across it. Over time, this can lead to wear marks or dents that give water a route of entry.
Damage caused by simple oversight: Sometimes, a commercial roof leak is caused by equipment mishaps, a corrosive chemical spill, or a puncture from a misplaced nail or screw.
Severe weather: Mother Nature herself can dish out enough punishment to make commercial roof repair necessary. Here in North Carolina, we're hit by ice storms, tornados, and even hurricanes on occasion.
Age: No matter how skillfully a commercial roof was installed, it will eventually fall victim to the ravages of time.
Had so many roofing companies to come out to fix the flat roof of my business. Finally found a company that investigated and decided the best recommendation was to do a full coating on it and finally it is fixed! Communication service is exceptional! Premiere roofing was excellent all the way from start to finish. – 5 Stars, Highlander Armory
OUR COMMERCIAL ROOF REPAIR CONTRACTORS CAN HELP
Whatever caused your facility's roof to require fixing, our commercial roofing contractors can identify the problem, correct it, and get you back up and running. We're knowledgeable about commercial roofing materials like PVC/TPO, BUR membranes, and Thermoset/EPDM. Check out our commerical roof maintenance program for regular inspections and small repairs.
SCHEDULE A COMMERCIAL ROOF REPAIR ESTIMATE TODAY
Our work is guaranteed, and we're happy to provide references from past and current clients. Contact Premiere Roofing today to schedule a free inspection and get a free commercial roofing estimate from your trusted, local commercial roof repair contractors. We look forward to hearing from you.