|
A commercial roof replacement is an effective way to protect your building from weather-related damage. It removes the old, defective roof entirely and replaces it with all-new materials designed to last for decades. Here at Premiere Roofing & Gutters, we offer this valuable service to our business clients across North Carolina.
The Three Phases of Commercial Reroofing
When our technicians inspect a damaged roof, the first thing they do is size up the situation and recommend a solution. Typically this involves one of three options:
Commercial roof repair: This means correcting problems limited to a small area, such as a few missing shingles or a single leak in an otherwise sound membrane.
Commercial roof restoration: This procedure is used when the overall roof is in good shape but suffering from multiple damaged areas. Our technicians remove the old materials and replace them with new components.
Commercial roofing replacement: Sometimes, the damage to a roof is so extensive that the only realistic solution is to replace it entirely. This problem can be caused by industrial accidents, severe weather, or daily wear and tear.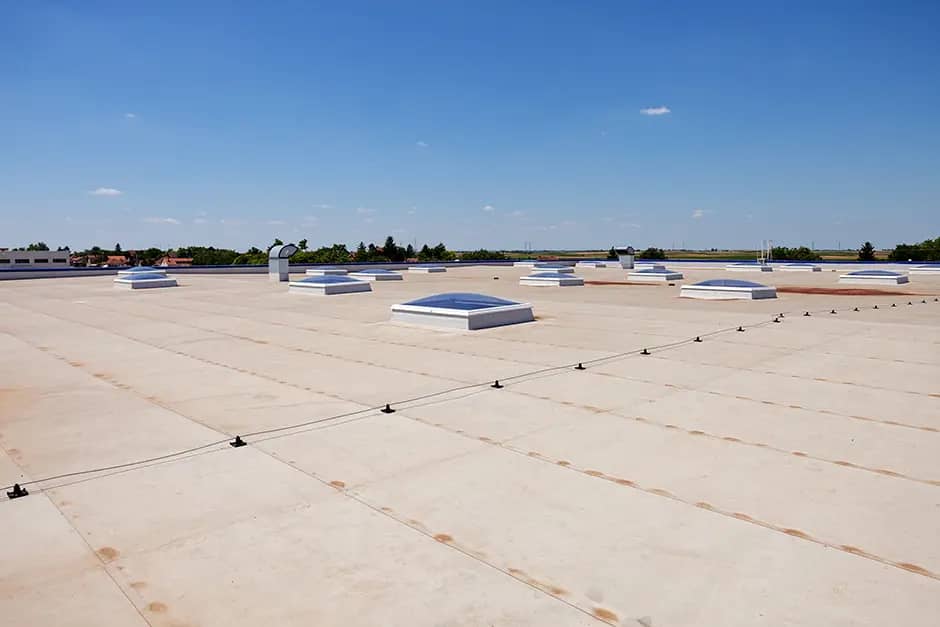 Commercial Roof Replacement in North Carolina
We'll remove the old roofing materials and dispose of them according to federal and state guidelines. Human safety and environmental protection are always our top priorities.
Once this step is complete, we'll evaluate the underlying sub-roof and let you know right away if we spot any problems. Assuming that the structure is sound, we'll start installing your new roof right away. You'll have the opportunity to inspect the job once it's complete.
Today's commercial roofing products are more durable and energy-efficient than ever before. We'll suggest one of the following options during your initial consultation:
EPDM: This is a rubberized single-ply material designed specifically for commercial applications. It forms a waterproof shield over the roof that's highly resistant to rain, frozen precipitation, and UV radiation. EPDM has been around for decades and remains widely used.
TPO: This stands for "thermoplastic polyolefin," a synthetic compound that's also a single-ply commercial roofing material. Like EPDM, it offers long-lasting protection in all types of weather. Often, it's the best choice for our commercial clients.
Metal: Metallic roofing offers a number of benefits to commercial facilities. It's attractive, extremely durable, and can help you minimize your heating and air conditioning expenses.
Built-up roofs (BUR): These contain alternating layers of asphalt and special waterproofing material. They're topped off with an aggregate such as stone or gravel, creating a dense, substantial roof that can stand up to extreme conditions year-round. A BUR also offers excellent insulating properties.
Commercial Roof Replacement Contractor
As noted, there are many factors to consider when it comes to commercial roof replacement. The way to get the best results from the investment is to choose the right contractor. Here's why you should consider Premiere Roofing & Gutters:
Our stability: We've been serving the people of North Carolina continuously for more than 20 years, making us respected members of the state's business community.
Our track record: We invite you to check our online reviews to see what others have said about us. We'll happily provide direct references from past clients upon request.
Our expertise: We back our decades of experience with ongoing training for all of our employees. This keeps them updated on the latest advances and innovations in our industry, which offers lasting payoffs for our clients.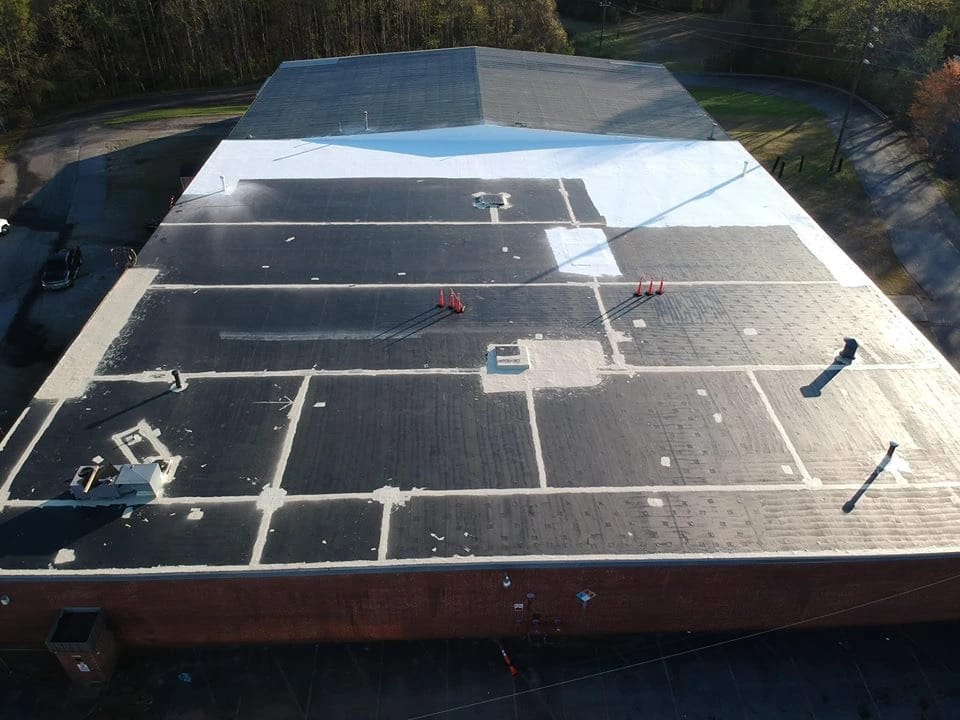 Contact Us for a Free Estimate
Whether your commercial roof needs a replacement or another roofing service, our commercial roofing contractors provide a wide array of commercial roofing services for the business owners of North Carolina. If your commercial roof needs a replacement, contact Premiere Roofing & Gutters today for your free commercial roofing estimate.