|
Yes, cool roof coatings can reduce heat dramatically, resulting in energy efficiency and significant cost savings. Given the intense heat of Catawba County summers, business owners would do well to invest in commercial roof coatings to reduce monthly cooling costs.
At Premiere Roofing & Gutters, we install Silicone Roof Coatings that reflect damaging UV rays. These cool roof coatings reduce radiant heat that increases the temperature and accelerates the aging process of your roof.
What are cool roof coatings?
Silicone roof coatings are brushed onto roof surfaces to protect against solar radiation and increase UV reflectivity. A cool roof coating is typically elastomeric. This means it is formulated to be highly elastic, so the coating can stretch and flex during temperature fluctuations.

In addition to protecting your roof from the elements and the damaging effects of UV rays, roof coatings:
Insulate the roof structure
Dispel solar energy
Decrease heat transfer to the building interior
Lower indoor temperatures up to 35%
Extend the lifespan of your roof structure
Are energy-efficient – save on cooling and heating costs
Are environmentally sound since they reduce fossil fuel reliance and greenhouse gas emissions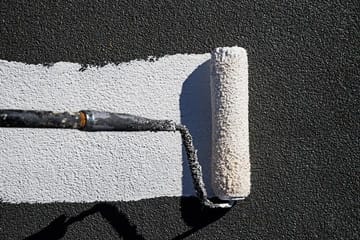 Cost-effective commercial flat roof coatings
According to the US Department of Energy, property owners can reduce cooling costs by up to 70 percent when a reflective elastomeric roof coating is installed. One of the biggest advantages of our commercial flat roof coatings— all manufactured by Conklin– is their long-lasting protection and ease of application.
Most cool roof coatings dry to a bright white finish and are suitable for commercial roofs made of FRS, metal, and polyurethane. The installation process is quick, and commercial property owners will reap the cooling benefits during North Carolina's scorching summers.
Conventional, dark roof structures allow radiant heat from the rooftop to permeate your insulation. As the weather heats up, your HVAC works harder to maintain a comfortable temperature.
Our cool roof coatings feature the latest roofing technology and are low in volatile organic compounds. Run your air conditioning less and save hundreds if not thousands of dollars every year! Our coating products maintain UV reflective properties for years and provide peace of mind that your roof is protected against early degradation.
Easy installation
Your roof is cleaned of grease, dirt, mildew, and other debris before the coating is applied. In most cases, a single or double coating is all that's necessary to provide lasting protection from the sun's hot rays and inclement weather. The entire process is completed in one working day and promises to increase solar reflectivity and the lifespan of your roof.
Commercial roof coatings in North Carolina
When it comes to commercial roofing in North Carolina, put your trust in a company that stands behind its products. The cool roof coatings offered by Premiere Roofing & Gutters reduce heat accumulation, enhance building comfort, and lower cooling costs.
Get in touch with us today to learn more about our products and services. Our team proudly serves commercial clients in Hickory, Blowing Rock, Boone, Wilkesboro, Charlotte, and Wilmington, NC.