|
Approximately 80% of US homes have asphalt roofing shingles. However, not all roofing shingles are made the same. There are high-quality asphalt shingles, subpar-quality shingles, and low-quality shingles.
A reputable roofer will only use the highest quality materials when installing new roofing shingles or an entirely new roofing system. This usually means they're either using GAF shingles or Owens Corning roofing shingles.
Of course, as the homeowner employing the roofing contractor and their team, you get to choose which manufacturer's shingles to use. This is where it all comes down to GAF vs Owens Corning shingles.
Wondering which brand of shingles you should go with next? Keep reading below for a side-by-side comparison of Owens Corning and GAF.
Owens Corning and GAF: Who Are They?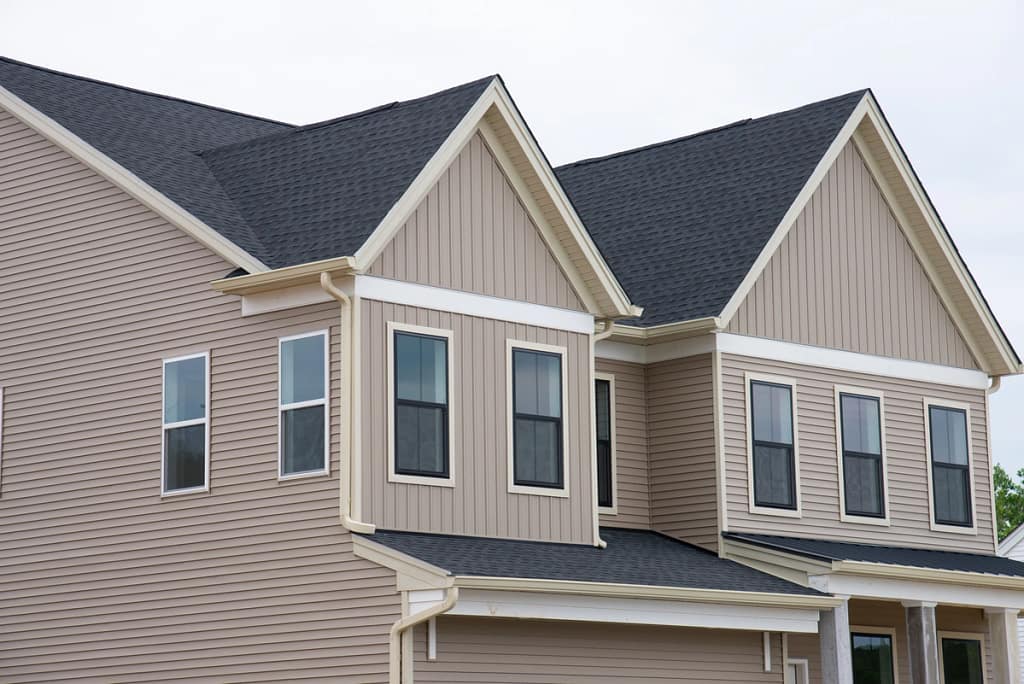 First, let's talk about the two manufacturing companies — as in who they are and why they're considered the best of the best.
Here are some fast facts:
Owens Corning
Owens Corning is an American-based company and leader in global building and industrial materials. The manufacturer offers a large range of both residential and commercial materials, including asphalt roofing systems, fiberglass composite materials, insulation, and more.
Owens Corning shingles are designed using a woven fortification. This allows for a better grip and blow-through resistance in the areas where the shingles are adhered by the nail. This design is also what contributes to the shingles' longevity.
Owens Corning offers tons of roofing products as well as tons of color options to match every home style and aesthetic.
The company uses innovative technologies to continue advancing their products, and they've developed sustainable roofing solutions over the course of decades. They're also constantly improving manufacturing processes to keep up with the ever-changing demands of the public.
General Aniline & Film (GAF)
GAF offers some of the most highly-rated roofing products on the market today — and with a proven track record. The company is responsible for developing innovative ideas for asphalt compounds, which is what has led to their affordable and weatherproof asphalt shingles (starting in 1912!)
GAF is also considered to be North America's latest roofing manufacturer. The company offers a full range of roofing products, from insulation to asphalt shingles, and that extends to both residential and commercial structures.
The company's asphalt shingles come in one of the largest color ranges and styles on the market today.
GAF also offers solar roofing for the eco-conscious home and business owner.
Keep in mind that both manufacturers have earned an impeccable reputation. This is because both companies have invested all of their efforts into producing the best roofing materials out there on top of effective marketing for brand recognition.
Owens Corning and GAF: Designs and Finishes
Both manufacturers offer similar asphalt shingle styles, including 3-tab, architecture, and designer/luxury styles. Below we'll explore how the two most common styles — 3-tab and architectural shingles — compare:
3-Tab Roof Shingles
3-Tab roof shingles are the most affordable asphalt shingles on the market. They come in one shape and size and have a flat surface.
Owens Corning offers the Supreme 3-tab shingles with a 25-year warranty and 60 MPH wind resistance. These shingles are widely available and come in 8 different colors. (An additional 9 colors — Spanish Red and Chateau green — have regional availability.)
GAF offers several types of 3-tab shingles, including the Royal Sovereign and the Marquis WeatherMax. The Marquis WeatherMax has a wind resistance of 80 MPH, while the Royal Sovereign has a 60 MPH rating. The Royal Sovereign comes in 9 shades of black, gray, brown, and tan, while the Marquis WeatherMax comes in 3 colors — autumn brown, charcoal, and weathered gray
Architectural Roof Shingles
Architectural shingles, also known as dimensional shingles, have an elevated design compared to 3-tab shingles. Architectural shingles are also manufactured with dense fiberglass matting and ceramic-laced granules that are mixed within a refined, water-resistant asphalt.
Owens Corning's line of architectural shingles includes the Oakridge and TruDefinition Duration (which also includes Duration STORM, and Duration FLEX.)

The company's starting point for these shingles is the Oakridge line, which has a full double layer in the nailing zone to give the shingles more holding power. They're also available in 9 colors with 4 enhanced colors and bolder designs.
The TruDefinition Duration line all have wind resistance warranties. The STORM and FLEX variations have a Class 4 impact resistance to withstand hail damage.

GAF's Timberline architectural shingles are considered North America's best-selling shingle system. The Timberline includes variations, such as the High Definition (HDZ), Natural Shadows (NS), Ultra High Definition (UHD), Cool Series (CS), UHD Reflector Series (RS), and ArmorShield (AS) II. All have a 130 MPH wind resistance rating, Class A fire rating, and limited lifetime warranties.

The HDZ is the starting point shingle, which is available in 16 different colors.
NS shingles come in 8 colors that are specifically designed to mimic the natural warmth of cedar shake roofing for a more subtle and upscale tone.
UHD is available in 7 colors designed to have an ultra-dimensional wood shake appearance.
CS shingles are designed to be highly reflective for energy efficiency and come in 3 colors — antique slate, backwood, and weathered wood.
RS shingles are designed to meet the Green Building Standards Code, and these come in 5 different colors.
AS shingles are designed with GAF's proprietary shadow bands, which are installed using a feathering technique to provide extra depth. These come in 7 different colors.
Quality and Durability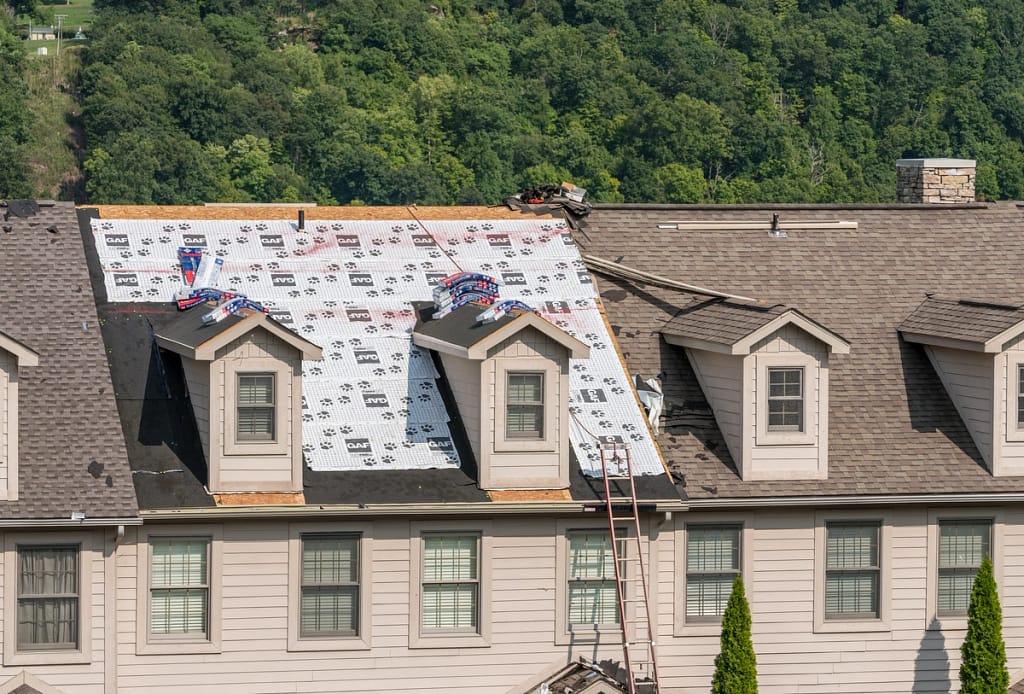 Owens Corning shingles are advertised with a Total Protection Roofing System that involves certain materials and seals to prevent moisture seepage into the roof deck. These total roofing systems are designed to quickly shed water and optimize airflow for better indoor temperature management.
Owens Corning shingles also use a patented nailing line called the SureNail Strip to ensure a consistent and sturdy installation with optimal gripping power.
Owens Corning's 3-tab shingles have a 25-year durability rating, while their architectural shingles are designed to last up to 50 years.
GAF shingles use LayerLock Technology for installation to guarantee their WindProven Limited Wind Warranty, which is excellent for hail-ridden areas.
GAF shingles also utilize a StrikeZone nailing area, which requires 30% more nail fastening speed and 99.9% placement accuracy for optimal gripping power.
GAF's 3-tab shingles have a 25-year lifespan, while their premium offerings will last up to 50 years.
GAF and Owens Corning: Which Is Best For Your Home?
Both Owens Corning and GAF offer an excellent variety of high-quality roofing products for homeowners and business owners alike. Their offerings come highly rated thanks to designs that allow for maximum durability, protection, and comprehensive warranties.
It goes without saying that most homeowners would be happy with either choice of Owens Corning shingles or GAF shingles. Of course, if you want to learn more about each manufacturer and which roofing materials would better suit your home, style, and budget, give us a call today.
The expert roofers at Premium Roofing & Gutters offer the friendliest and most personalized service around. We'll be more than happy to walk you through all of your options and make the decision that's best for you!