|
Are you looking for a gutter installation estimate here in North Carolina? We offer both residential gutter installation estimates and commercial gutter installation estimates. Getting the most value for your money starts by knowing the factors that will affect the price tag. These include the size of your home or building, the materials used for your gutters, and any enhancements you choose.
I was in need of having gutters installed on my house, and contacted several companies for quotes. After Garron and Tara came out to do their estimate and talking with them, I knew instantly they were the ones I wanted to give my business to. The professionalism and personal interest they displayed as young business owners spoke volumes, and continued throughout the job with exemplary work ethics and quality craftsmanship provided by his workers. I would HIGHLY recommend them to any and all of my family and friends for all their roofing and gutter needs!

— 5-Stars Eric B.
WHEN IT COMES TO GUTTERS, SIZE DOES MATTER
Most gutter installers charge by the linear foot, so the larger your home or commercial building, the higher the final cost is likely to be. Another factor to consider is whether your home is single- or double-story, as multilevel houses often require a more extensive system. Additionally, if your home or commercial property has a unique structure, a standard gutter system may not be able to meet your home or building's needs, then a custom gutter system is the solution and can contribute to a higher price, as well.
MATERIALS ALSO MATTER
Today's consumers can choose from a wide range of materials when it comes to their gutters. Vinyl is the least expensive choice, followed by aluminum, stainless steel, and copper. Each offers its own set of advantages and considerations.
Vinyl Gutters: Vinyl gutters are highly affordable. They're the same color through and through, so scratches and dings are less likely to show. They're also easy to install and easy to find in most hardware and home improvement stores. However, the chief problem with vinyl gutters is their durability. Lower-quality versions are vulnerable to damage, both from heavy rains and the sun's rays. A cheap gutter system is no bargain if you end up replacing it in a year or two. The best way to avoid this problem is to use a contractor like Premiere Roofing & Gutters, which only uses commercial-grade materials.
Aluminum Gutters: The next step up from vinyl is aluminum. Many people believe that this is the best all-around choice for homeowners. Aluminum is significantly stronger than vinyl, yet it's also lightweight. In addition, it's rust-resistant and stands up well in bright sunlight. At the same time, aluminum gutters can cost up to twice as much as vinyl. Also, an aluminum gutter system is likely to develop leaks over time unless you opt for a seamless version. This is another instance in which your choice of contractor can make all the difference in the world.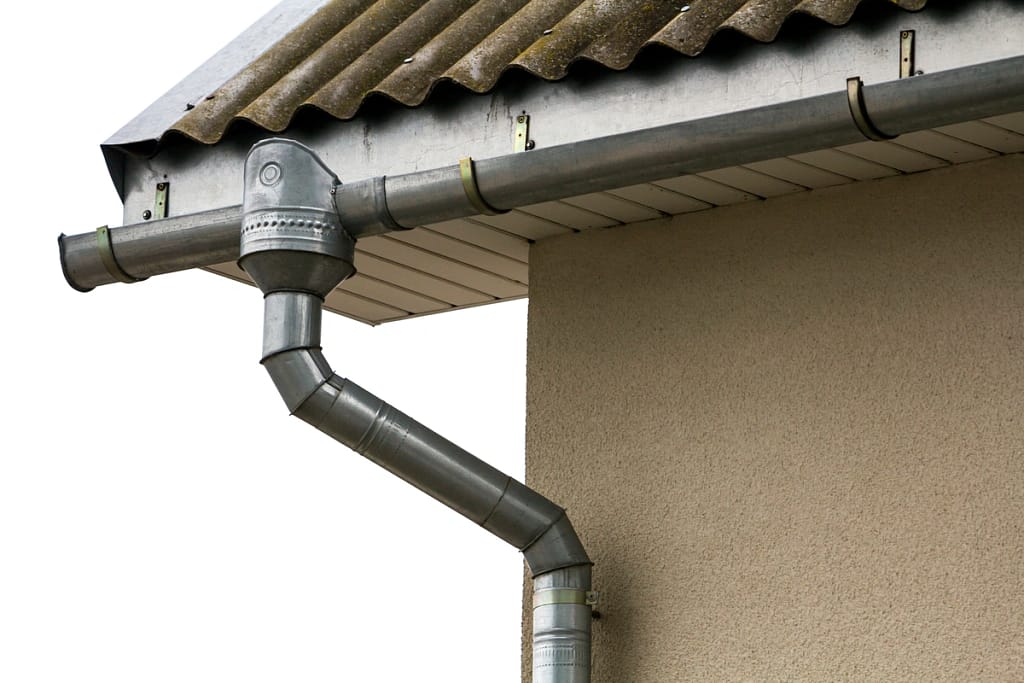 Stainless Steel Gutters: The next step up is stainless steel, which is even more rust-resistant than aluminum. This material can stand up to the harshest conditions, making it a good choice in areas where heavy rainfall is common. The chief disadvantage of stainless steel gutters is their price structure. They can cost twice as much as aluminum, sometimes more. Also, some people dislike their shiny appearance– though this is a matter of personal taste.
Copper Gutters: The most expensive material is copper. It's typically reserved for high-end homes or historic apartment buildings. On the other hand, a copper gutter system can easily last up to 60 years with routine maintenance. As copper gutters age, they take on a slightly weathered look that adds distinctive character to the structure.
ENHANCEMENTS TO YOUR GUTTER SYSTEM
A basic gutter system includes the gutters themselves as well as the downspouts. In most cases, these are all the components the homeowner will need. Sometimes, however, a building can benefit from specific enhancements. Examples include:
Underground drainage pipes: These channel rainwater to a central collection point such as a lake, stream, or city sewage system.
Downspout extensions: Useful in situations where the rainwater might otherwise rush back towards the structure and damage the foundation or landscaping.
Heat tape: This prevents rainwater from freezing inside the gutters. This enhancement is rarely used in Charlotte or the surrounding areas. But it may prove useful during severe winters when the mercury drops well below 32°.
CONTACT US AT PREMIERE ROOFING & GUTTERS
As you can see, there are many things to consider when choosing the right gutters for your home or commercial building. The best way to make sense of all this information is to contact us here at Premiere Roofing & Gutters today. We offer both residential gutter installation estimates and commercial gutter installation estimates.
Our experts will help you to explore your options and choose the right solution for your needs. We install both seamless gutter systems and custom box gutter systems. So, get in touch with us soon, then get ready for a better, drier tomorrow.