|
A residential roof can last anywhere from 20 to 50 years, depending on the type of roofing material used:
Traditional asphalt shingles normally last about 20 years, barring high winds or storm damage.
GAF fiberglass shingles can easily last up to 30 years or even longer, even in severe weather conditions.
A modern metal roof can last from 50 years up to the lifetime of the home itself.
As a residential roofing contractor in North Carolina, we're happy to answer any questions you may have about these roofing materials and provide a free roofing estimate. Just give us a call or shoot us an email.
Why Don't Traditional Asphalt Shingles Last as Long as Other Shingles?
Asphalt shingles are a popular roofing material here in the US. They're attractive, relatively affordable, and easy to install. However, they do not generally last as long as GAF fiberglass or metal roofs because thof their susceptibility to:
Seasonal temperature changes – asphalt shingles expand and contract constantly as the seasons change. Over time this can weaken the fibers that hold them together, allowing rainwater to invade your home and inflict serious damage.
Algae growth – asphalt shingles have internal crevices that can hold moisture, creating the perfect environment for algae to multiply. This is why some asphalt shingle roofs have a greenish-blue tint.
Wind damage – heavy winds can cause asphalt shingles to literally "flap in the breeze" or even blow off the roof entirely.
GAF Roofing Shingles: A Better Option for Today's Homeowners
The folks at GAF are well aware of the limitations posed by traditional roofing products. That's why they've developed their own premium brand of fiberglass shingles for modern homeowners. They offer these benefits:
Year-round resistance to temperature changes – thanks to GAF's Duragrip® sealant that holds its Timberline® AH Shingles together in both summer heat and winter cold.
Protection against algae growth – GAF StainGuard Plus roofing shingles contain special algae-fighting copper capsules. They're backed by a 25-year warranty against algae-related discoloration.
Superior wind resistance – GAF's Timberline HDZ shingles are designed to withstand wind speeds of up to 130 miles per hour.
As contractors with decades of experience providing residential roofing installation in North Carolina, we are proud to install GAF roofing shingles and associated products on our customer's homes.
Metal Roofs: Attractive and Durable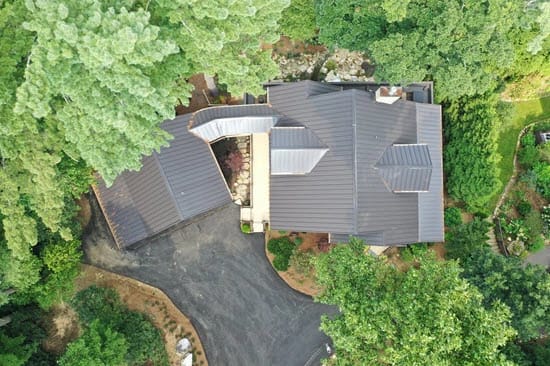 For many homeowners, a metal roof is the best choice for long-lasting protection from the elements. Here's why:
Modern metal roofs are remarkably rust-resistant – due to the special blend of materials used in their construction, including zinc and aluminum.
Modern metal roofs retain their color for decades – thanks to the anti-corrosive pigments used in their baked-on coatings.
Modern metal roofs are quiet – that's because they're cushioned by an underlying layer of sound-absorbing insulation.
Modern metal roofs are a true long-term solution – in fact, our metal roofs are guaranteed for up to 50 years. Our customer service experts can give you the details when you get in touch with us.
A North Carolina Roofing Contractor You Can Trust
Here at Premiere Roofing & Gutters, we've built a well-earned reputation for excellence throughout the Tar Heel State, with a special focus on Charlotte and the surrounding areas. Our rates are fair and our work is guaranteed. Contact us today for your no-cost residential roofing estimate in North Carolina. You'll soon have the facts you need to make an informed decision.