|
Filing insurance claims for storm damage to your home or building can be very confusing and you may not know how to get started. The experts at Premiere Roofing & Gutters are here to help! We are well versed in the insurance claims process and will guide you through the claims process correctly and efficiently.
We handle storm damage insurance claims frequently and will make the process stress free. Premiere Roofing & Gutters is a top rated roofing and gutter company in North Carolina. You can trust us to repair and replace your roof and gutters with high quality workmanship and durable materials. Learn more about how the storm damage insurance claim process works below.
Step 1: Identify The Damage
Let a professional identify damages to your roof or gutters, taking good photo documentation is key. Always make sure you're inspection company is insured in case of an
accident.
Commonly Asked Storm Damage Questions:
What kind of damage are you looking for?
Most roof damage is caused by wind and hail.
What does wind and hail damage look like?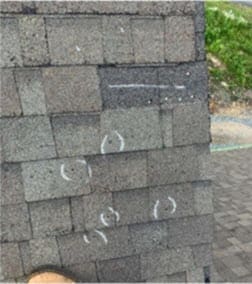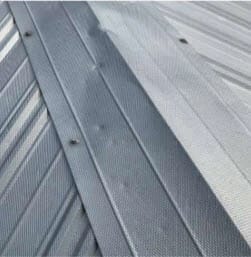 Step 2: Initiate the claim
After Premiere Roofing finds and properly accesses what kind of damage you have, it is time to start your claim. Starting your claim is as easy as making one phone call to your insurance, we at Premiere roofing have no problem starting the claim for you as we deal with insurance providers every day we know how to answer commonly asked questions by your insurance for example:
When did the storm occur? To find this, we use data from out severe weather app to track exactly when the storm hit and all the details we can include, such as, which type. At the conclusion of the phone call, we will be provided with your claim # assigned to your claim and a date of when your field adjuster will come out and inspect your damage.
Step 3: Meeting Your field Adjuster
Meeting your adjuster is one of the most important part of the process, Premiere Roofing will meet your field adjuster at the time that best fits, during the inspection we will explain damage we see and advocate for your replacement on the damage we found in the initial inspection. The ultimate decision is not made by us but by your desk adjuster at said insurance provider, this decision will be made instantly or in 1-3 business days
After your insurance provider has came to a conclusion, your desk adjuster will call with a answer of "yes" the roof or gutters will be replaced or "no" it will not be replaced, if your roof is
denied by insurance we recommend a re-inspection to get one final opinion of the roof or gutter damage.
Step 4: Your Roof is accepted
After your roof or gutters are accepted by your insurance provider you and Premiere Roofing will be sent a detailed breakdown with cost of your roof and gutters, these breakdowns can sometimes be tricky to read, but at Premiere Roofing we will do our best to explain all funds you will receive.
The claim will always be less than your deductible. These can normally be anywhere from $500-$2,000 depending on policy, the deductible is by law, to be paid to Premiere Roofing or the contractor doing your install. When Premiere Roofing receives your first payment we will start your build within 1-3 weeks, in the mean time we will temporarily tarp or seal any leaks you have the best we can. Premiere Roofing specializes in roof repair and replacement. We are experts at replacing asphalt shingles, cedar shake shingles, architectural shingles, and metal roofing. Learn more about our residential roof repair service and our other residential roofing services in North Carolina.
Step 5: After Completion of your build
Premiere Roofing will do a final inspection after your build is finished and follow up with photo documentation that all work is completed to your insurance provider, this normally requires a completion letter that we will provide. Once insurance receives all documentation, the final check known as the depreciation will be released to complete the payment of your new roof or gutters.
We at Premiere Roofing will take all responsibility in sending documentation and working with your adjuster the best help the outcome of your roof insurance claim! Contact our experts today to get started filing your home roof insurance claim or commercial roof insurance claim.