|
Hurricane roof damage can range from a few lost shingles ripped off by high winds to extensive structural compromise requiring emergency repair. Sometimes the problem is hard to spot, so it's a good idea to have your roof inspected by trustworthy professionals after any type of severe storm.
If your home or business needs hurricane roof repair, fixing the problem properly means using the highest-grade materials. That's why here at Premiere Roofing & Gutters, we install GAF roofing shingles and other top-quality products. Get in touch with us today for your free inspection and estimate.
ROOF DAMAGE CAUSED BY HURRICANES
Some common types of hurricane roof damage include:
Destruction of roof (partial or complete)
Compromised shingles – which may be loose, peeled back, bent, or missing altogether.
Sloping or sinking roof caused by heavy rain
Cracks or holes in the roof
Clogged or damaged gutters and downspouts
Partial or complete flooding
If you are concerned about possible roof damage due to a hurricane or severe storm, reach out to schedule a visit from our experienced contractors. All inspections and price quotes are free, so you have nothing to lose and only peace of mind to gain by contacting us today!
CONSULT A HURRICANE ROOF REPAIR CONTRACTOR YOU CAN TRUST
Here at Premiere Roofing & Gutters, we've spent more than 30 years providing top-quality residential roof repair and commercial roof repair to our North Carolina neighbors. Our work is guaranteed and we'd be pleased to provide references from past customers.
We use quality materials every time, including GAF roofing shingles with an available 50-year warranty and Wind Shield protection. Combined with our expert installation, they provide long-term protection for your roof against hurricanes and other unexpected calamities.
We also service all types of commercial roofing, including metal panels, EPDM, TPE, and built up roofing (BUR). We do everything from minor repairs to complete residential roof replacement.
HURRICANE DAMAGE ROOF REPAIR SERVICES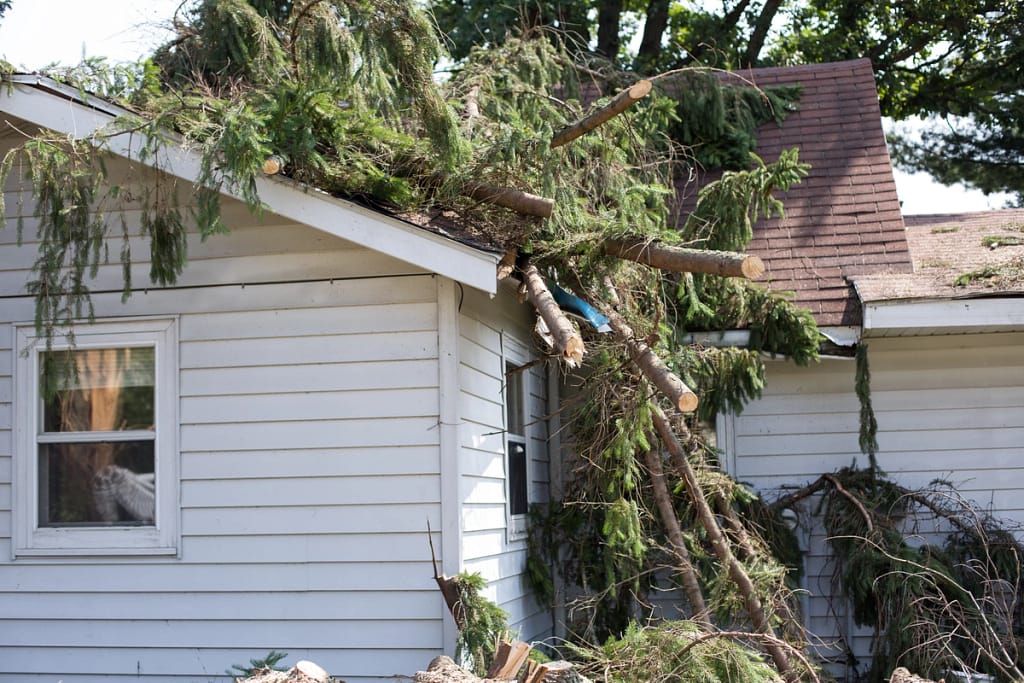 The first step in hurricane damage roof repair is to gauge the true extent of the problem. That's why we use cutting-edge tools and techniques like drones, digital imaging, and time-tested hands-on inspections.
Whether you find damage or not, after a hurricane, the best practice is to get a professional, no-cost roof inspection as soon as possible to make sure your roof is still in good condition. Premiere Roofing will inspect your roof and provide recommendations for how best to address the damage.
Once we know definitively what's going on with your roof, we'll prepare a comprehensive estimate for your review. You'll know exactly what's going on with your roof and what you must do to set things right. We can fix any roofing type, from patch roofing to shingle replacement to a full roof replacement.
If problems are acted upon quickly, we can help prevent further roof damage.
HURRICANE ROOF DAMAGE INSURANCE CLAIM: HOW WE CAN HELP
Dealing with an insurance company can sometimes be the most stressful part of getting your roof repaired. Our experts have dealt with numerous insurers over the years. We can anticipate their questions and help you to get full compensation for the hurricane damage to your roof. This can save you endless hours of worry and uncertainty. Call us today to begin the process of filing a home roof insurance claim.
SCHEDULE A HURRICANE DAMAGE ROOF INSPECTION TODAY
Time is never on your side when it comes to roof damage from a hurricane. Some of the most severe problems can fly under the radar for months or even years, like moisture damage inside your walls or ceiling. Putting off the inspection may even endanger your ability to use your insurance coverage.
For all these reasons and more, we urge you to contact us today to schedule your free roof inspection and estimate for wind damage roof repair. You'll soon be equipped with the facts you need to take the next steps.