|
While aesthetics play a role in choosing a light roof vs. a dark roof, looks are not the only criteria. Lighter roofs may save homeowners money, as they are more energy efficient due to absorbing less light. A light roof can result in lower temperatures and therefore, less energy usage. However, with today's advances in roof shingle technology, homeowners can be confident they're getting a quality shingle no matter the color.
The residential roofing experts at Premiere Roofing & Gutters provide top-quality roofing services for homeowners and commercial clients in North Carolina. We offer HDZ shingles from GAF that come with a 50-year warranty and are available in a variety of colors.
We can advise you on the best roofing materials and colors for your unique residence or commercial building.
The Light Roof
A lighter roof is usually better for energy efficiency because it absorbs less light. That lowers temperatures, while keeping energy usage lower. The resulting lower energy bills provide savings for homeowners.
Because lighter roofs absorb less light, they are less subject to heat damage over time. This prolongs the life of the roof, which also saves money.
The Dark Roof
The dark roof is usually considered a better choice for cooler rather than warm climates due to its light and heat absorption ability. After all, if there's snow and ice on the roof, warmer shingles allow easier melting. That's not a big problem in North Carolina, although snowstorms do occur.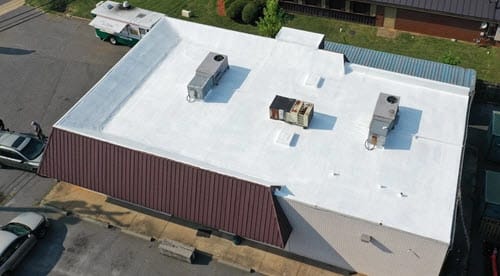 Commercial Roofing
For commercial properties, white roofs are usually preferable due to their energy efficiency and savings. Good commercial roofing shingle choices include White EPDM and White TPO.
Zoning
Depending on your local zoning ordinances, you may have to adhere to certain roof colors or type. If that's the case, the issue of dark vs light-colored roof shingles may already be decided. You have to go with your subdivision's or neighborhood regulations. That's generally the case if you are subject to homeowner's association rules.
Complementary Colors and Styles
Of course, you want a roof color that complements your home. Based on the architectural style of your house and the color of the exterior, a light or a dark roof may simply look better. For instance, if you live in a log house, a darker roof usually appears more attractive. If your house is white, almost any color roof shingle is complementary.
Most homeowners can change the exterior of their homes with relatively little effort. That's not the case with facings, such as stone, brick, or stucco. If these elements are part of the exterior, try to match your roof colors to complement them, since they are permanent features.
The Bottom Line
Ultimately, a quality shingle that looks good on the house is what matters. The technology of modern roofing shingles, whether light or dark, does not result in big temperature differences. What impacts heat and cold has more to do with attic insulation and ventilation than roof shade.
Contact Us
If you would like more information about residential roofing shingles for your home, fill out our online contact form or give us a call today. We proudly serve North Carolina homeowners in the Hickory, Blowing Rock, Boone, Wilkesboro, Wilmington, and Charlotte areas.