|
For roof leak repair done right in North Carolina, choose Premiere Roofing & Gutters. As part of your free roof inspection, our trustworthy and knowledgeable technicians will thoroughly investigate the damage that is causing your water leak, review our findings with you, and make recommendations for the quickest and most affordable repair or replacement options. We can also help you with filing insurance claims due to water damage.
Over time, the natural aging of roof components or the effects of previous damage can lead to water leaks. Leaky roofs can also happen due to thunderstorms and rainstorms, hurricanes, high winds, snowstorms, and ice dams.
No matter what caused the problem, quick action is essential for protecting your home or business from further damage. Get in touch with our office today to schedule your complimentary roof inspection and quote.
SIGNS OF ROOF WATER DAMAGE
Here are some of the most common warning signs of roof leak problems:
Bare spots on the roof – caused by missing or damaged shingles.
Damage to critical roof components – such as chimneys, skylights, vents, flashing, or caulking.
Stains, wet spots, or water leaks on the ceiling – sometimes these are apparent all the time. Other times they happen only during rainstorms.
Moisture inside interior walls – which can ruin paint, destroy drywall, or cause electrical short circuits.
Puddles of water in the attic
Evidence of mold or mildew growing on the roof itself
A dank or musty smell throughout the home or business
If you notice roof damage or water spots on your ceiling, especially as a result of thunderstorms and flooding rains, please contact our leaking roof repair experts right away to schedule a free inspection.
CONSULT A ROOF LEAK REPAIR CONTRACTOR YOU CAN TRUST
If your residence or commercial property requires roof leak repairs, the first step is to choose the right contractor for the job. Here are some things to look for when making this all-important decision:
A well-established track record – here at Premiere Roofing & Gutters, we've been members of the North Carolina business community for over 20 years.
Better Business Bureau (BBB) membership – this demonstrates stability and solid customer ethics. Premiere is an accredited member of the BBB and holds an A+ rating with the agency.
A free inspection and evaluation – avoid any company that tries to charge you for a commercial or residential roof estimate.
Highly trained specialists who employ the latest tools and techniques – our technicians use infrared imaging and digital drones along with time-tested hands-on inspection techniques to diagnose the underlying problem.
References from past customers – which Premiere is always happy to provide.
High-quality building materials – like our GAF roofing shingles that come with an available 50 year warranty and wind shield protection.
LEAKING ROOF REPAIR & REPLACEMENT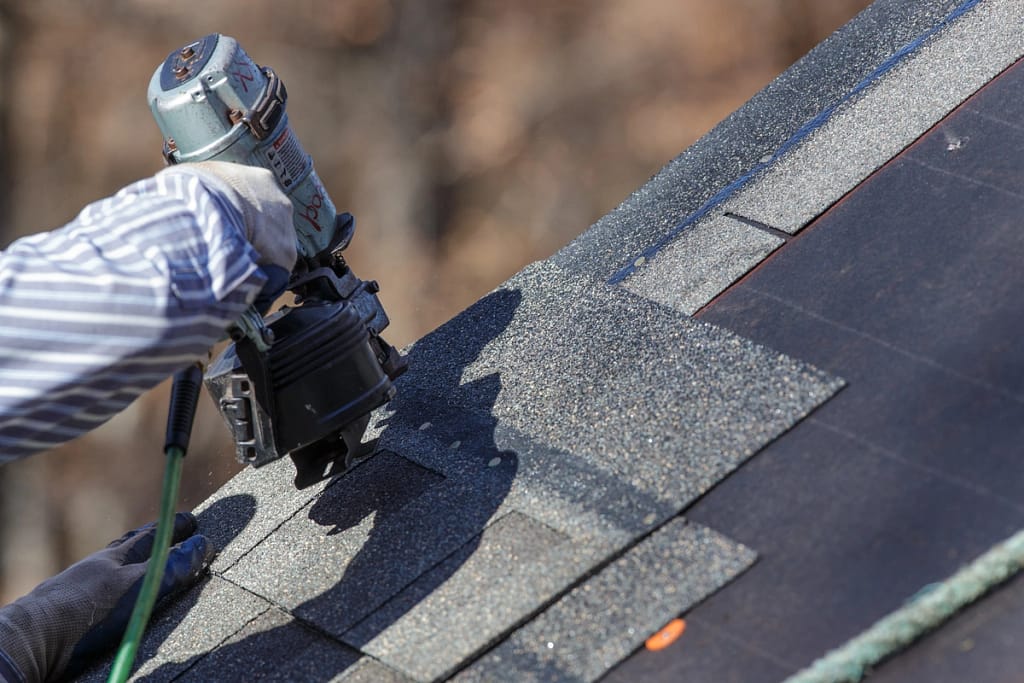 At Premiere Roofing & Gutters, our dependable and experienced professionals know how to repair water leaks in any type of roof, whether it's made from traditional asphalt shingles, metal panels, cedar shakes, industrial roofing membranes, or built-up roofing (BUR). From roof flashing repair to patch roofing to whole roof replacement, we have the know-how and skill to get the job done right the first time, every time.
ROOF LEAK INSURANCE CLAIMS: HOW WE CAN HELP
At Premiere Roofing & Gutters, we've worked with numerous insurers over the years. We can help you to get every penny you have coming for your leaky roof repairs. Ask us for more information about how we can help with water damage roof insurance claims when you get in touch with us.
SCHEDULE A WATER DAMAGE ROOF INSPECTION TODAY
Looking for a trusted professional who can repair roof leaks NOW and keep your home or business protected for the long term? Contact Premiere Roofing today to schedule your free roof inspection and learn about our water damage roof repair services.
Remember, we lead the state when it comes to commercial roof repair and residential roof repair in North Carolina. Call today and let us know how we can be of service!