|
Has your roof suffered damage due to severe weather or the effects of aging? If so, then roof shingle replacement may be the best solution. It's a targeted approach to roofing repair, which typically costs less than a complete roof replacement. Here at Premiere Roofing & Gutters, we're proud to include roof shingle repair and replacement among the many services we provide. Get in touch with us today for your free shingle replacement estimate.
WHAT MAKES GOOD SHINGLES GO BAD
Ever hear the saying, "a chain is only as strong as its weakest link?" The same is true of a shingle roof. It only takes a few missing or damaged shingles to endanger the entire structure.
Luckily, the warning signs of failing shingles are usually easy to spot. Ask yourself if you've noticed any of these problems with your roof:
Missing shingles –perhaps lying around your yard or strewn about the roof itself.
Torn, broken, or curling shingles –caused by strong winds, extreme heat, or the cumulative effects of rain and other forms of precipitation.
Shingle granules in your gutter –this is a sure sign that your shingles have lost most of their resilience.
Leaks in your attic –which are easy to spot during rainstorms.
Shafts of sunlight entering the attic from above –another serious warning sign.
Get in touch with our office right away if you notice any of these problems. We'll schedule a free service call and let you know right away if you need a residential roofing replacement.
ROOF SHINGLE REPAIR OR SHINGLE REPLACEMENT: WHICH IS BETTER?
Not all damaged shingles require outright replacement. In many cases, we're able to complete residential shingle roof repair by using commercial-grade adhesives or roofing nails. This approach may save you money without compromising the final results.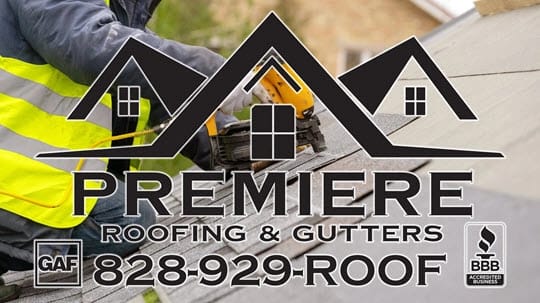 Why Shingle Repair is a Job Best Left to the Pros
A committed DIYer with the proper tools can undertake all sorts of home improvement projects. However, it's best to leave the job to qualified experts when it comes to asphalt shingle repair or cedar shake repair. Here's why:
The risks inherent with roofing work – being a roofer requires being in good physical condition and an alert mind. A moment's inattention may find you seriously injured. That's why our people receive extensive training and use professional safety equipment.
The peace of mind that comes with our ironclad guarantee – we back all of our jobs with our exclusive satisfaction warranty.
The freedom to use your leisure time as you please – you work hard enough as it is. So why devote your limited off-hours to crawling around on a hot, sticky roof? By letting us do the hard work, you can relax and enjoy yourself instead.
The sooner you get in touch with us, the sooner your roofing problems will be in the past. Contact Premiere Roofing & Gutters today for your free estimate. You'll quickly have the facts you need to take the next step.