|
They say that those who forget the past are doomed to repeat it, and that's certainly true. All of us should avoid the mistakes of yesteryear.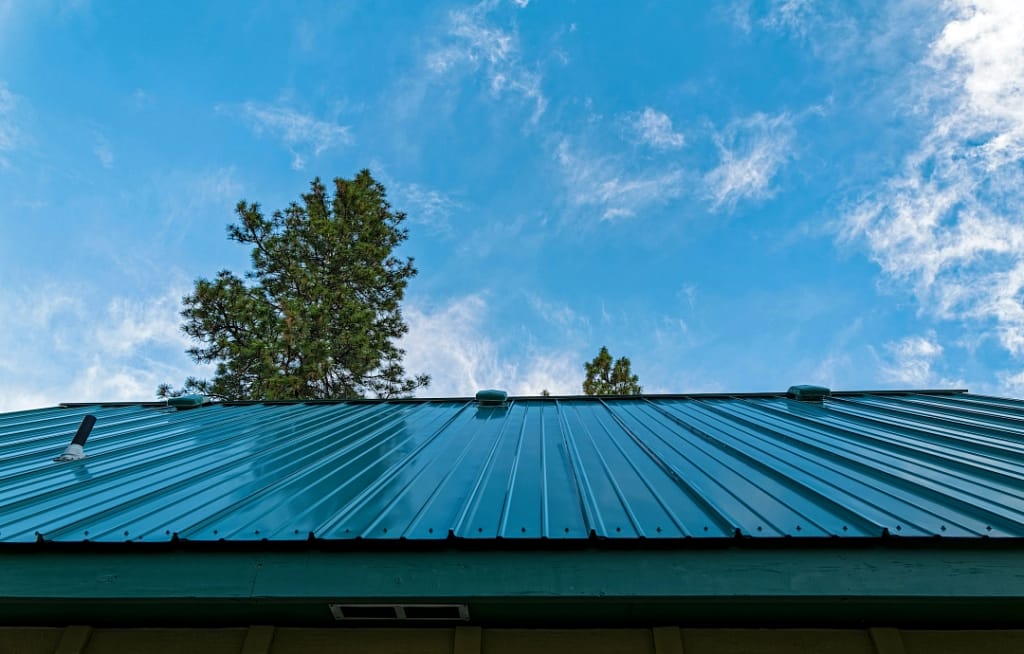 At the same time, however, we should never let the limitations of the past keep us from enjoying the benefits of the present. Here's how this applies to contemporary metal roofing:
Modern metallic roofs are remarkably rust-resistant: Forget about the dingy metal roofing you may have seen on antique barns or older houses. Today's versions are crafted from a high-tech mix of steel, aluminum, and zinc, then protected with a baked-on top coat for the ultimate in beauty and durability.
Modern metallic roofs can stand up to Mother Nature's worst: Unlike fragile asphalt shingles, our metal roofing materials shrug off the effects of wind, rain, and frozen precipitation. They look as good in the cold of winter as they do in the heat of summer.
Modern metallic roofs don't have to look like metal: To the contrary, many of them are virtually indistinguishable from natural products like clay, wood, or stone. While you will know that you have a metal roof, your neighbors might not even know – unless you tell them, of course. And why not?
Modern metallic roofs are quiet and well-insulated: You'll never have to worry about your metal roof disturbing your sleep during an overnight rainstorm. You can rest easy, knowing that the space over your head will never raise a ruckus.
Modern metallic roofs can save you serious money on your utility bills: Just think of how much you spend on air-conditioning during our sultry summer season. Why settle for dark, heat-absorbing asphalt shingles when attractive, light-colored metal roofing can send much of that stifling warmth back where it came from?
Modern metallic roofs are economical: This is especially true when you consider that metal roofing can outlast traditional options by a factor of 3 to 1, according to the experts at State Farm Insurance. Why replace your roof every 15-20 years when today's metal roofing can last for half a century or longer?
Modern metallic roofs will give you greater peace of mind: It's reassuring to know that metal roofing will never go up in flames. That's the kind of reassurance that old-fashioned shingles can never provide.
Eye-catching good looks that can boost your home's resale value
Some people think of a new roof as an expense. But it's more accurate to think of metallic roofing as an investment. This is especially true here in the Eastern United States, where homeowners typically recoup more than 95% of the costs of installation. This can make a world of difference to your bank account when the time comes to sell your home.
Backing our North Carolina metal roof installations with an unbeatable warranty
Our modern metallic roofs are backed by manufacturer-authorized warranties ranging from 50 years to the life of your home. Just ask our experts for the details. We offer both residential metal roofing service and commercial metal roofing service.
Give Premiere Roofing a call for all of your metal roofing service needs
A great product virtually sells itself. That's why you'll never have to worry about our metal roofing company trying to strong-arm you into buying something you don't want or need. Instead, we'll drop by at a time that's convenient for you, inspect your current roof, listen to your needs, and work up a no-obligation quote for your review. What could be easier?
Contact Premiere Roofing today to learn more about our metal roofing services. Our customer service specialists are looking forward to your call. Remember, we want to be your local metal roofing company. We proudly serve North Carolina homes and businesses throughout Charlotte, Wilmington, and all of Catawba County.