|
Choosing a roofing material for your building is a big decision. All of the major products (EPDM, BUR, etc.) have their share of advantages. But for now, let's concentrate on what makes TPO (thermoplastic polyolefin) a particularly good option for commercial roof installations.
Here are six benefits of a TPO flat roof system
Advantage #1: Affordability
The costs of installing a TPO roof compare favorably to other options. TPO is typically installed in wide sheets that allow for efficient placement and economies of scale.
Advantage #2: Superior puncture resistance
TPO has undergone extensive durability tests over the years. The results show that it's 2-3 times more puncture-resistant than other leading materials, making it a great choice for roofs that see a lot of foot traffic and human activity.
Advantage #3: Energy savings
TPO is available in a variety of colors, including lighter shades that reflect rather than absorb the sun's rays. This translates into significant energy savings, especially in warm weather.
Advantage #4: Environmental friendliness
A TPO roof is recyclable when it reaches the end of its lengthy lifespan (typically 20 years or more). This fact, along with the energy-saving methods used in its manufacture, makes TPO an environmentally friendly roofing solution.
Advantage #5: Ability to withstand the elements
TPO stands up well to rapidly changing weather conditions, from blazing summer heat to rain-soaked winter months. It's resistant to UV rays and it's designed to inhibit mold growth, making it a true year-round performer.
Advantage #6: Flexibility
TPO is a highly pliable material that's ideal for not only flat roofs but peaked and contoured ones as well. This is important to remember, especially if your roof has intake fans, flues, vents, or HVAC units. TPO will not only adhere to these structures, it will expand and contract as needed during the ongoing annual seasons.
Not all TPO is created equal
You may have heard that a TPO flat roof system is less resilient than other roofing materials. But those who make this claim are basing their arguments on tests made of thinner, less durable versions of TPO used by cut-rate installers.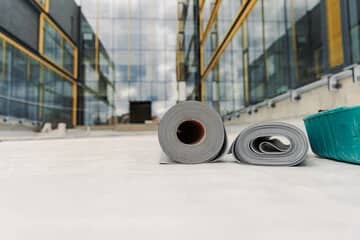 This brings up a crucial point: your choice of roofing contractor is just as important as selecting the right roofing product. Otherwise, you may find yourself facing problems such as leaks, mold, mildew, or even costly repair bills.
Why choose Premiere Roofing?
Here at Premiere Roofing, we use commercial-grade tools and materials for every project we perform. We match our approach to the client's exact needs and specifications. That's why we're known as one of our region's leading commercial roofing contractors.
Want to know more about us? We'll happily provide references from past clients and give you a free, no-obligation quote. Find out what Premiere Roofing can do for you and contact us today. We look forward to your call.