|
As a business owner, you rely on the structural integrity of your commercial building. A flat roof coating can help in more ways than one. Applying a protective roof coating will help your roof last longer, reduce the need for repairs, and improve the entire building's energy efficiency.
A commercial flat roof coating extends the lifespan of your roof
Commercial buildings may be built with flat roofs made of tar and gravel (also known as a "built-up roof"); asphalt and rubber modifiers (or "modified bitumen roof"); or with a rubber membrane ("EPDM roofs"). When properly installed, these flat roofs have a life expectancy of 20-40 years. However, many factors can work against that life expectancy, from maintenance practices to acts of nature.
You can preserve the longevity of your roof—and even make it last longer than expected—by having a flat roof coating applied. On average, a commercial roof coating can increase the life expectancy of a flat roof by 10 to 15 years after its application. As a result, commercial building owners can save money by delaying roof replacement.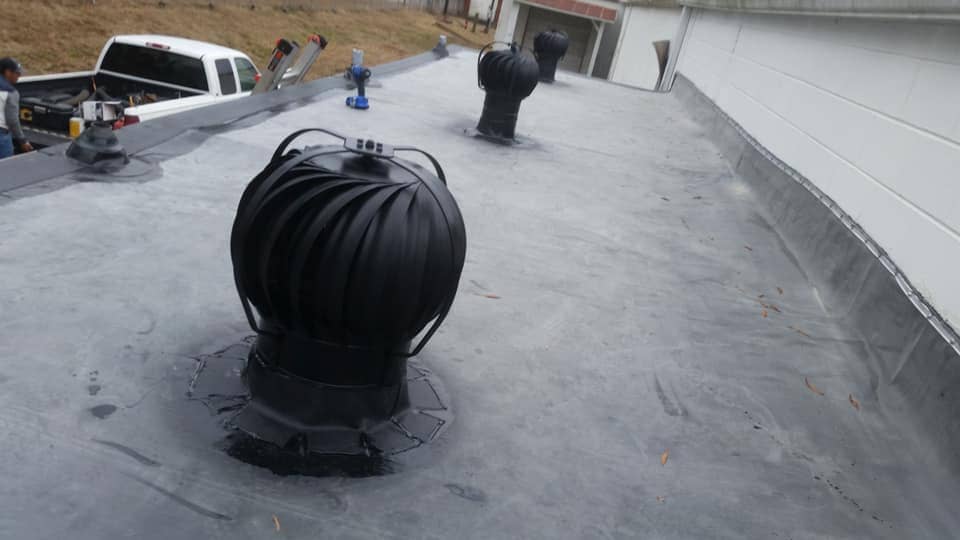 Flat roof coatings improve the energy efficiency of commercial buildings
The most common roofing materials are darkly colored. Though more traditional and aesthetically pleasing to some, dark roofing materials are less energy efficient. The color of the material is significant because it determines the degree to which the sun's rays are reflected off the surface. A lightly colored flat roof coating will reflect more light. As a result, savvy business owners in North Carolina might opt for a white roof coating as a way to keep the entire building cooler. White coating is also the economically preferable and environmentally-conscious choice as it will reduce the demand and cost of air conditioning.
Protective coatings on flat roofs guard against damage from the elements
Weather events are the most unpredictable source of commercial roof damage. Hailstorms, hurricanes, and even thunderstorms can inflict damage with fallen trees, high winds, and excessive water collection. Commercial building owners can proactively protect against the elements and reduce the need for future repairs with a professionally applied elastomeric flat roof coating.
Request an estimate for a flat roof coating
Premiere Roofing & Gutters is a leading provider of commercial roofing services for North Carolina business owners. We provide flat roof coating service across North Carolina. Our roofing experts can help you find the best flat roof coating for your building. Based in Hickory, we're pleased to travel throughout Wilmington, Boone, Wilkesboro, and beyond to help preserve and extend the life of your commercial roof. Call us today to request a free flat roof coating estimate for your commercial building.