|
A roofing contractor's cost estimate for roof repair work or full roof replacement should include: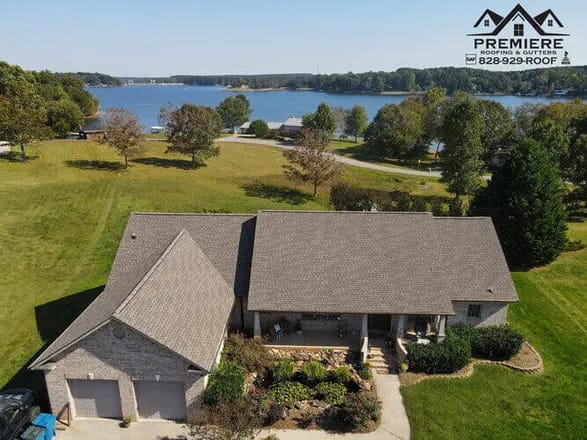 Full project details
The overall cost of the job, including a breakdown of costs for materials, labor, permits, and cleanup/debris removal
Recommended materials and associated warranties
Information on workmanship warranties and insurance
Miscellaneous fees that will affect the final costs
Here at Premiere Roofing & Gutters, we include this information in every commercial and residential roofing estimate we prepare. Let's look at what makes it so important.
Roofing Project Details
A description of the proposed project will reveal how carefully the contractor examined your roof. It should include the following information:
Protections for the penetrations on your roof – a "penetration" includes anything that juts above the roof surface, including chimneys, pipes, vents, and skylights. A thorough estimate will describe the types of leak barriers that will go around each penetration.
The proposed venting system – every modern roof needs vents to remove excess heat and odors. The estimate should tell you what types of vents are needed and where the contractor intends to install them.
Any areas of concern – these may include unusual angles, overhangs, and weaknesses in the sub-roofing. It's always possible that removing your existing roof may reveal rotten lumber or other structural issues. A good contractor will note this in the estimate.
Comprehensive Roofing Cost Outline
This is a breakdown of the costs in terms of both labor and materials. One thing that will affect the labor cost is how many layers of old roofing the contractor will have to remove (if any). This information should be included in the estimate.
The materials list should include the types of underlayment, ice and water shields, and ridge capping the contractor intends to use. These products are in addition to the primary roofing materials such as shingles, metal panels, cedar shakes, or industrial membranes like TPO or EPDM.
Recommended Roofing Materials and Roofing Warranties
Roofing materials vary widely in terms of quality and durability. In general, good roofing materials will include a minimum 20-year warranty. They will also be available in a wide choice of colors and styles.
Here at Premiere, we use GAF roofing materials that carry available 50-year warranties against moisture, internal defects, and wind damage. You can choose from a vast array of color and design schemes to suit your personal style.
Roofing Workmanship Guarantee
A thorough new roof estimate should also include the company's warranty policy and insurance. Here at Premiere Roofing & Gutters, we include a quality guarantee with every job we do; ask our customer service experts for the details.
Miscellaneous Fees
These may include:
Landfill fees
Local permits
Applicable taxes
Cleanup/debris removal fees
Taken together, they can have a significant impact on the final amount of your commercial or residential roofing estimate. Here at Premiere Roofing, we do everything possible to minimize these expenses.
Protecting Your Property from Possible Damage
Every commercial or residential roof installation entails a small degree of risk to the surrounding property, including plants, trees, shrubs, walkways, outdoor furniture, fountains, and swimming pools.
The roofing estimate should include the measures the contractor will take to protect these items and how these safeguards will affect the final costs.
At Premiere Roofing & Gutters, we go to great lengths to protect our customer's property from possible damage, like installing tarps over specific items such as outdoor furniture and fountains.
Why You Should Trust Premiere for Your Commercial or Residential Roofing Estimate
As one of North Carolina's most respected roofing contractors, we've built a rock-solid reputation around Charlotte, Hickory, Blowing Rock, and the surrounding areas. Our rates are fair and we hold an A+ rating with the Better Business Bureau (BBB).
Reach out today for your residential or commercial roof estimate. As part of our free inspection of your roof, our experienced technicians will review all our findings with you and give you all the information you need to decide on the best way to proceed.