|
The roof of your commercial building probably needs to be replaced if you notice any of the following problems:
Water damage to the interior ceiling or attic
Bumps or blisters on the rooftop
Gaps between overlapping seams
Cracked, curling, or missing shingles (in the case of a shingle roof)
Evidence of weather-related damage
At Premiere Roofing & Gutters, we specialize in providing commercial roof inspection, replacement, and repair to the people of Charlotte, Hickory, and the surrounding areas. Get in touch with our office today if you need our help.
A closer look at those five warning signs
You should suspect trouble with your roof if you notice any of these issues:
Water damage to the attic or ceiling – which can take the form of stains, puddles, mold growth, or a strong mildew odor. You may also see sunlight coming through the roof itself.
Blisters or bumps in the roofing membrane – this problem is usually caused by gases that have built up between the roof's exterior layer and the sub-roofing.
Loose seams – commercial roofing membranes like TPO or EPDM are laid out in sections, with overlapping seams along the edges. If those seams are coming apart, then your roof has probably suffered serious damage already.
Shingle problems – commercial shingles are just as vulnerable to damage as their residential counterparts. You'll know you have a problem if the shingling is cracked, curled, or has lost its grain.
Evidence of storm or wind damage – like corroded fasteners, dented panels, or exposed sub-roofing.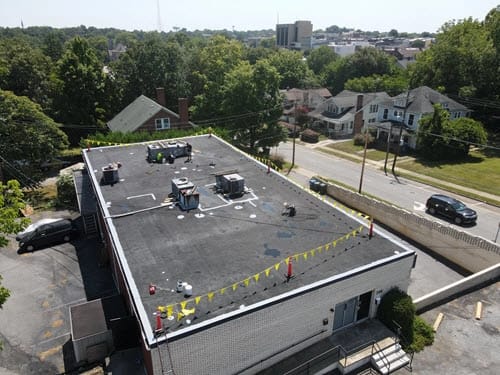 Why ignoring these warning signs is not an option
The consequences of ignoring commercial roof damage are too great to risk. Here are just some of the problems you may face unless you take immediate action:
Electrical fires: due to rain or melted snow coming in contact with the building's wiring.
Illnesses or allergy symptoms: caused by germs or allergens spread by contaminated rainwater.
Partial or total roof collapse: not only can this destroy your building, it can also pose a serious hazard to occupants of the building.
How Premiere Roofing & Gutters can help
The best way to deal with these issues is to contact us today for a complete commercial roof inspection. Here's how we can help:
By diagnosing the cause of the problem: we'll tell you exactly what's going on with your building. We'll also prepare a commercial roof estimate for your review.
By protecting your roof from further damage: we'll install a commercial-grade membrane over the damaged sections. This will provide temporary relief while we carry out more extensive measures.
By completing the necessary work: this can range from minor repairs to complete commercial roof installation, depending on the extent of the damage.
Our technicians are experts when it comes to all types of roofing materials, including TPO, EPDM, metal panels, synthetic roofing shakes, and tar-based built-up roofs (BURs). You can trust us to do the job right.
Commercial roofing replacement you can trust
For commercial roof replacement in North Carolina that you can depend on to be done right and done right the first time, choose Premier Roofing & Gutters. We have been in continuous operation for more than 20 years. Our rates are fair and our work is guaranteed. Get in touch with us today if you need help with your commercial roof.