|
Timberline® HDZ™ architectural shingles are built to last for 50 years or more, with a lifetime warranty against wind damage when installed according to GAF guidelines. They're weathertight, waterproof, and fire-resistant.
Plus, they have a beautiful, finished look that will make your house the envy of the neighborhood. These are advantages that traditional 3-tab asphalt shingles simply can't match.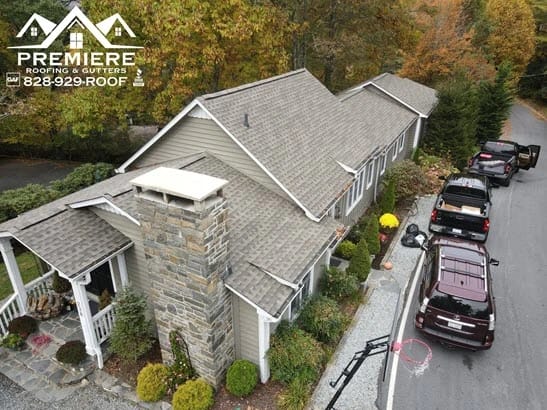 When you trust Premiere Roofing & Gutters to handle your new architectural shingles installation, you also benefit from our more than 20 years of experience in the trade. There's no better way to give your home the beauty and protection it deserves.
5 Reasons to Trust our Architectural Shingle Installation Service
Here are five features that set Timberline® HDZ® architectural shingles apart from the competition:
They stay in place – thanks to the Dura Grip® sealant that bonds with the textured microgranule surface of the shingles themselves.
They have the highest fire protection rating allowed by law – UL Class A, ANSI/UL 790.
When installed, they form a single unified surface, due to the LayerLock® technology integrated into their construction – this vastly reduces the risk of individual shingles blowing off the roof.
They offer powerful anti-stain protection – nobody wants to invest in a new roof only to find it infested with unsightly blue-green algae. That's why Timberline® HDZ™ shingles are made with environmentally friendly antifungal properties.
Lasting beauty – Timberline® architectural shingles offer a dimensional, layered look, similar to that of cedar roofing shakes but without their drawbacks.
Architectural Shingles Stand up to Heat, Water, and Other Elements
These architectural shingles stand up to heat, sunlight, impact, and even water damage far more effectively than traditional 3-tab shingles can. We use a type of asphalt shingle that is a little denser than 3-tab shingles. This is a laminate shingle made from a fiberglass base with ceramic coated minerals that are embedded in water-resistant asphalt.
Architectural shingles give a beautiful and finished appearance to residential roofing that can't be matched by any other material. Made with a heavier construction, architectural shingles tend to last a lot longer than their 3-tab counterparts.
As you can imagine, Timberline® HDZ™ architectural shingles installation requires highly specialized skills. That's why we've invested in ongoing training for our technicians.
Because of their expertise with Timberline® products, you can rest assured that your new roof will provide not only protection for your home but peace of mind for you and your loved ones as well.
A Single Seamless Roof Protection System
Ensuring an architectural shingles lifespan of 50+ years takes multiple roofing components working together as one. That's why we include the following GAF accessories whenever we install a Timberline® HDZ™ shingle roof:
GAF Pro-Start® starter strips – which combine space-age adhesives with carefully placed mechanical fasteners, creating a watertight underlayer.
Deck‑Armor™ waterproof, breathable membrane – that's highly resistant to UV rays, putting it light years beyond old-fashioned felt paper.
GAF hip and ridge cap reinforcing shingles – that work with standard GAF architectural shingles to protect every square inch of your roof.
GAF attic vents – that minimize the amount of moisture circulating around your roof, stopping water damage before it starts.
Your Premiere roofing expert may also recommend an additional leak barrier, depending on your roof's architecture and overall condition. We'll tell you more when you get in touch with us.
Replace your Roof with Architectural Shingles
Now that you've seen the benefits of a Timberline® HDZ™ architectural roof, we invite you to contact our office for your free, no-obligation residential roofing estimate. Premiere Roofing & Gutters is one of the most established and respected residential roofing installation companies in Charlotte, Boone, Hickory, and the surrounding areas. Our work is guaranteed, and we are happy to provide references from past satisfied customers.
Reach out to Premiere Roofing & Gutters today to set up a no-cost, no-obligation roof inspection and price quote.